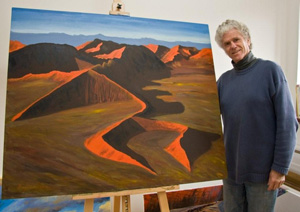 Barry Hibbert was born in Paignton, Devon, and had his own professional practice for 22 years, but having retired in the West Country, he has taken up his passions for art and photography with renewed vigour. As a teenager, he was very interested in both art and photography, but realising it would be difficult to earn his living at either or both, took up a professional career to earn some money.
He now paints mainly landscapes and seascapes in oil, acrylic, pastel, collage and mixed media on canvas or board. He is inspired by the natural beauty around him, both in West Somerset, where he now lives, and on his travels around Britain and abroad. Although mainly self-taught, he has been encouraged by local artists Barry Watkin and Peter Heard, and his paintings are influenced by such artists as Turner and the French Impressionists, and contemporary artists Ken Hildrew, Kurt Jackson, Mike Bernard, Anuk Naumann, to name but a few.
Barry is also a keen photographer, photographing landscapes and seascapes, which also give him inspiration for paintings at a later date, often based on his travels abroad. He is also interested in experimenting photographically with long exposure night-time photographs of gardens and stars, or low light blurry pictures of moving subjects. Occasionally, these inspire paintings of a similar style.
Past Exhibitions
2008 Church House Crowcombe - Solo Exhibition
2011 Pound House Stogumber - Solo Exhibition
2012 Somerset Arts Weeks
2013 Cleeve Abbey - Joint Exhibition
2013 Alcombe Church, Minehead - Joint Exhibition
2014 Stogumber Festival - Joint Exhibition
2014 Somerset Arts Weeks